Originated from Thailand, this soup is famous for its distinctive sour and spicy flavor. Tom Yum is not only well-known in South East Asia but also among foreigners. Its rich taste has promoted Tom Yum as one of a must-try Thai dish!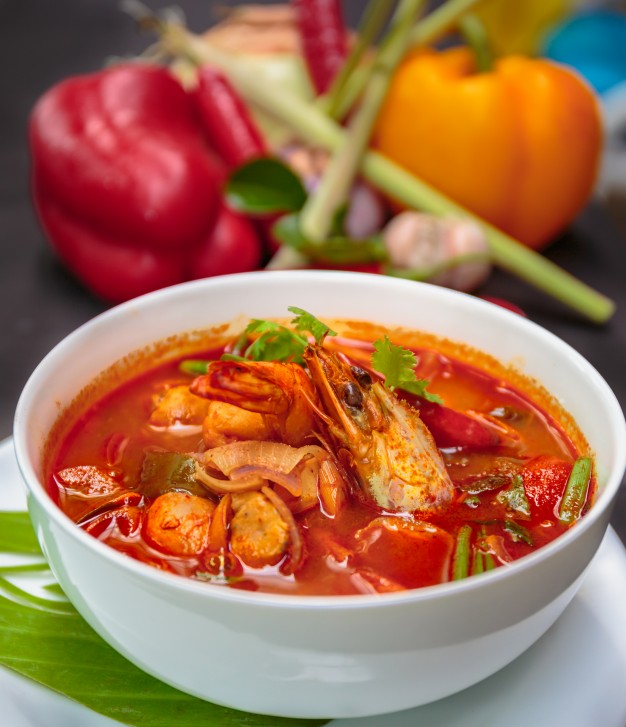 Ingredients:
-500 gr of chicken (diced)
-300 gr John Dory fish (sliced)
-200 gr of shrimp
-200 gr of squid (chopped)
-300 gr of cauliflower (chopped)
-100 gr enoki mushroom
Spices:
-1oo gr of galangal (chopped)
– 5 lemon grass (chopped into 3-inch strips)
-10 kaffir leaves
-3 cloves of garlic (crush them lightly with the flat or a knife)
-10 rice peppers (chopped, avoid using this if you don't want it to be too spicy)
-1 onion (chopped)
-1 lime (squeezed)
– 2 tsp of chicken powder
-1 tsp of sugar
-Thai Chili Paste (get the instant one at the store or use this recipe to make some)
Instruction:
In separate bowls, marinate chicken, shrimp, fish, and squid with 1 tsp of salt and white pepper, and lime juice. Set aside for 20 minutes.
Heat 3 spoonful of oil, add sliced onion and caramelize it. Put 5 spoonful of thai chili paste and stir it until it releases the aroma.
Boil water with garlic, galangal, and lemon grass. Add the chicken. Once it becomes tender, mix the chili paste from earlier, along with the oil to the pan. Put the rest of the ingredients except for shrimps and enoki mushroom. They can be added 3 minutes before you turn the heat off.
Add more salt, white pepper, and chicken powder to taste.