If you think gelato is just another variety of ice cream, you are unlawfully mistaken. Gelato might just be an Italian word for ice cream but it is by miles better, richer, and sexier! Some key differences actually lay on its ingredients. Gelato uses more milk than creamer making it silkier and more elastic; tough its elasticity is still not comparable to Turkish ice cream. But then again the latter use mastic gum, which allows you to feel a full biting sensation.
Gelato's texture is more fluid and smoother. And since it is stored in a lower temperature than regular ice cream, it will be less numbing to your mouth.
It contains less butterfat and air resulting in shorter shelf-life. This is why TERMINALE only serve fresh batch of gelato everyday. An assortments of dishes, beverages, and coffee are also available in case you need heavier meals. Unfortunately, I don't feel like I have enough options. Visiting this place couple of times will probably be enough for you to try all food items in their menu.
But worry not! What it lacks in menu variety, it makes up for in its two dozen flavors of gelato. Ranging from regular dark chocolate, milk chocolate, vanilla, strawberry, mango, yogurt to unique black sakura, durian, red velvet, yakult, and even redbull. I am also a big fan of their strawberry milkshake!
Their main store in Dago Living Plaza resembles European ambiance street with two major areas: indoor and outdoor. Even though it is not very capacious, Terminale is really cozy, along with dim lights that create a warm homey glow. The second-floor outdoor area will let you enjoy your foods in fresh air. Some seats are facing a big sidewalk on clean Dago Street so you can watch people walking by.
However, this space doesn't have anything to protect you from the rain or scorching sun. So if it's the outdoor  you want to hangout at, make sure to go during friendly weather.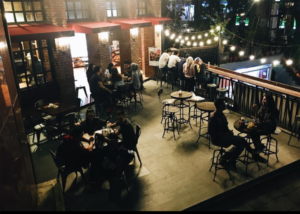 Their gelato is served in a crispy cone as well as a cup; your choice!
But I am hoping they will use ice cream glass for dine-in instead. The truth is paper cups are extremely tough to recycle and it is frustrating to think that there will be hundreds of them ended up in our landfill everyday. All in all, Terminale is still my go-to place to savor amazing gelato experience.
Price per item: 2-5 USD
Tax & Service: included
Accessibility: high
Taste: 9/Service: 7/Overall: 8