This Thai restaurant in Grand Indonesia Mall looks promising. It reminds me of my favorite food 'TomYum', and I think that's where the name is derived from. They also have a nice representation from the outside with a friendly bystander welcoming you. However, I might sound totally bold when I say that my experience of this place is rather disappointing. As someone who is crazy about Thai food, I really don't want people who never really try any of it before think that this restaurant is the representation of Thai foods everywhere.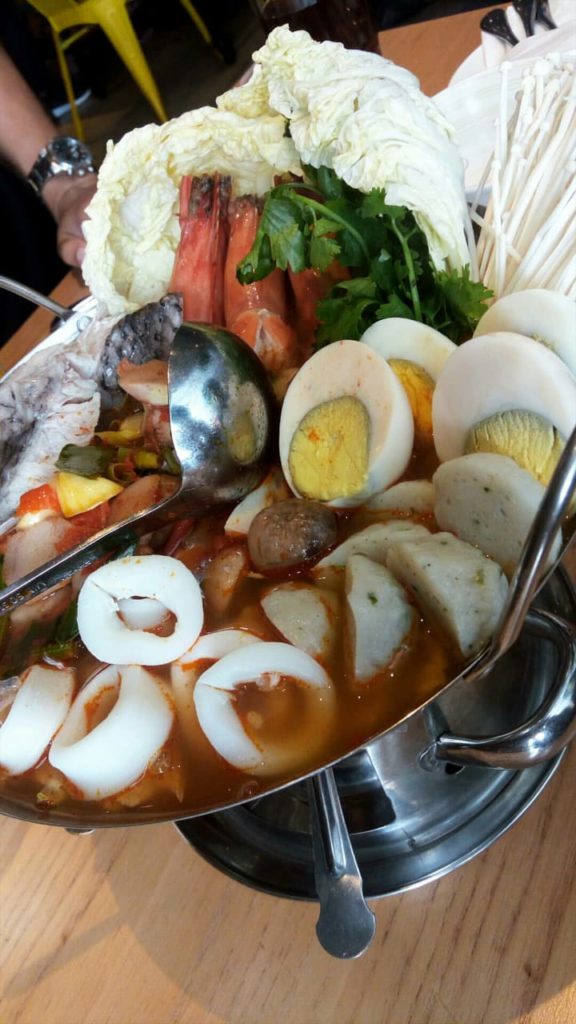 First, the place is far from cozy. If there are only four of you, they don't let you to take the 6-seat table. It's usually understandable because rent in Jakarta is expensive and they probably try to squeeze in as many customers as possible. I was really hesitant to take a seat though because the 4-seat table is the size of a coffee table that only fits for two. If you are to order a steamboat with four small bowls that come with it, you won't have any place left for placing your drinks.
We wanted to order a bunch of foods and insisted on taking larger table but the waiter didn't let us. What they are lacking in space, they unfortunately don't make up in taste. For a restaurant that specializes in Thai food, they do have a long list of varied Thai dishes. The food presentation is fancy and mouth-watering, but, I really feel like the taste could have been richer and more flavorful. The Tom Yum soup that I ordered, for instance, tastes more like the type of 'Tom Yum' soup that is served in a Japanese Barbecue restaurant. It, unfortunately, doesn't taste anything like the real one.
Taste: 50/ Place & Service: 60
Price per person: $15-20
Tax & Service: 15%
Overall: 60