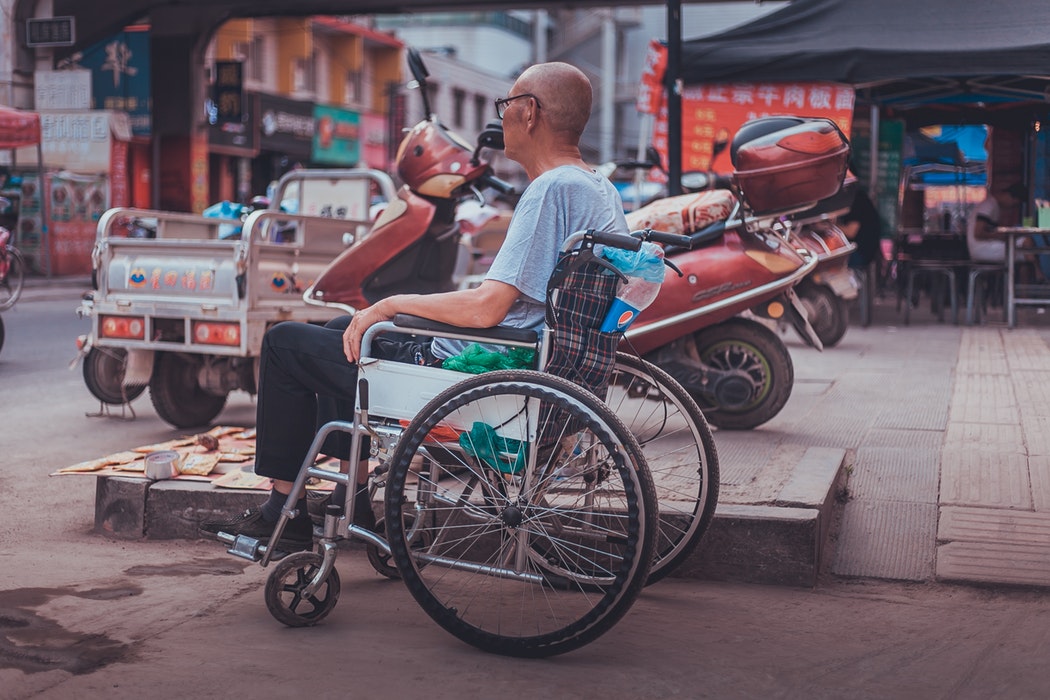 Using wheelchair and crutches give me a glimpse of what it feels like to be a disabled in Indonesia. I only have a short-term condition where I can probably walk again in 6-7 weeks, but for many people, it's their reality. One of the most noticeable thing is that people stare at you. You are perceived as someone who is less able and needs a hand. While this is a nice gesture, I can't help but to feel like a loser for having to depend on others to do basic things such as carrying stuffs or using the bathroom. There are some stages of frustrations since it takes me half an hour to put on clothes and another half an hour to get ready. The depression also crept in every time I fell down and couldn't get myself back up. I am sure people around you didn't think it was a failure, but it can be humiliating and/or embarrassing to be observed while you were helplessly lying on the ground.
After injuring my ligament and going through some intensive care, I decided to go back to work and make peace with myself. One of the first things I did was googling how to carry stuffs and take stairs with crutches. I was going to deal with chores around the house once I get better, but realizing that my progress is slower than expected, I just know that some actions must be taken. So, I picked up where I left off.  And here are three things I'd like to highlight after encountering few obstacles which hopefully will further raise awareness.
1. Accessibility.
Indonesia is hardly accessible for people with disabilities and I never understood how important this matter is before having a firsthand experience. So it is safe to assume that most people won't comprehend this either.Unfortunately, the majority of buildings do not cater to the needs of the disabled, even malls, and grocery stores. I have to buy everything online or ask someone to go with me. Accessibility matters. It is a crucial opportunity for these people to improve their independence. In fact, it's kinda hard to accept your condition whilst constantly being a burden to others. We really need to feel like we participate, to have the sense of normality, and not to feel powerless.
Moreover, public transport is just as much a nightmare. Buses are not accessible, let alone angkot (a form of public transportation in Indonesia consisting of a shared minivans carrying 12 to 18 passengers). My only mean of transport is by using Grab/Uber.
While it can be an alternative for me, this method can get very expensive and is not always affordable for many people. We also don't have special parking spots for the handicapped to safely access the buildings. Some path can be slippery or even hazardous. Parking space that is far away from the building can not only cause a grave inconvenience but also threaten their safety.
2. Some Disabilities are Invisible
People with disabilities are not restricted to those with wheelchair, crutches, or hearing aids. In fact 74% of them don't use these things that make their disabilities apparent. It's easier to get sympathy and be understood when your appearance signals that you have some sorts of physical limitations. For others though, calling in sick because they have a condition can put them in a guilt trip. People around them might have a hard time finding the right form of assistance or worse; can't even comprehend that their pain is genuine.
My feet would sometimes show progress that will allow me to ditch my crutches when making a short trip to the grocery store, but the next day, they completely fail you. I might be able to stand for 5 minutes but it's always followed by your knees getting weak and trembling. They are also cases where people with disabilities are able to jump or dance for a short period of time, but will need to use their wheelchair to complete longer errands.
3. Plastics
The amount of single-use plastic I produce during my recovery exasperates me. My place was not wheelchair accessible so I couldn't cook, do the dishes, or laundry myself. As I don't have the liberty to go to different places for plastic-free products, I relied heavily on delivery-service companies to have my meals sent. They do come with plastic containers, which is against my conscience.
Grocery stores in Indonesia are also full of plastic. While ordering my meal will produce around 3 pieces of single-use plastic, each vegetable, fruit, or spice sold in grocery stores here come in plastic and/or styrofoam, resulting in my throwing at least a dozen of it. I couldn't go to the traditional market with all the puddles and slippery path either. Besides, they are mostly outdoors and super crowded.
The use of disposables should be limited/replaced with eco-friendly materials, however, it offers great resources for this type of scenario. Although I am on board with halting the use of single-use plastic, many of the proposed bans seem to leave out disabled people. Nobody who has disabilities should feel guilty about using a resource that they need. Therefore, we are in need of a dialogue between environmentalists and disability rights to discuss the fate of these people while we are in the middle of transitioning to eco-packaging. After all, If the only disposables used were those that were NEEDED, we wouldn't have much of a plastic problem.
Despite the challenges I was facing, I am grateful for this experience. Had I not undergone this process of recuperation, I wouldn't have been able to really put myself in their shoes and learned so much from it.