We are lured by the idea of getting an access to as much food as possible. This become one of the reasons why all-you-can-eat restaurants are growing rapidly. Nothing screams 'a good deal' like getting to fill up your plates until you get a food coma. The feeling when you walk into a room filled with an assortment of mouth-watering foods draws us in. Every time a customer comes, 'irasshaimase', a phrase in Japanese meaning 'welcome' is shouted by all the waiters. You can literally hear it from across the room. So, here are some top places which offer exactly this in Bandung:
1. Shabu Kojo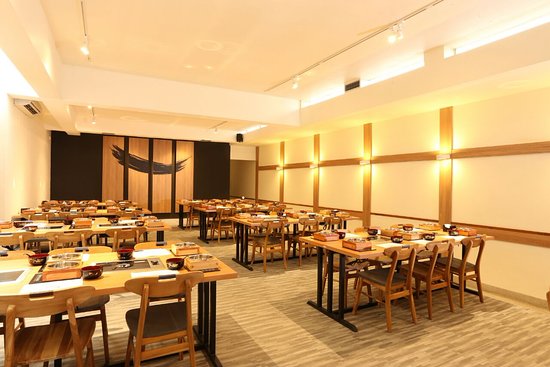 Located at Progo Street no.20, Bandung. This Japanese-themed restaurants had a grill in the middle of the table and steamboats for each person, presenting two type of soups; chicken and tom yum (Thai spicy sour soup). Bowls of chopped beef and chicken are marinated in barbecue sauce. Fish, mussels, crab stick, meatballs, shrimp, and various types of vegetables are gonna be the first thing you see when you visit this place. But save some room for desserts such as jello, panna cotta (recommended), brownish, and ice cream. For beverages, there are lemon tea, orange juice, matcha, chocolate milk, infused water, and coffee to choose from. If you have zero self-esteem like me when it comes to binge eating, buffet section, sushi bar, and Japanese tempura fritters could be your other options.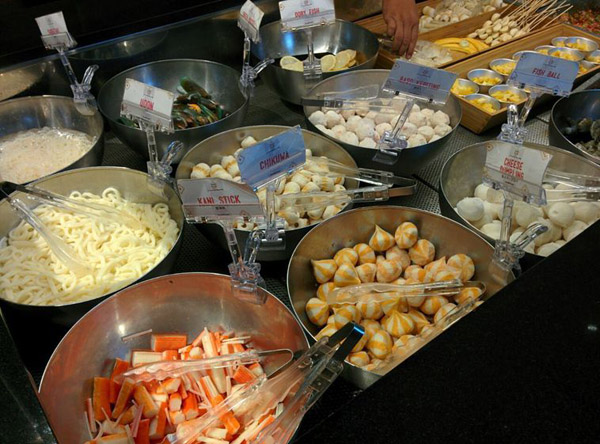 Shabu Kojo is dominated by wooden furniture. The amber lighting has a warm and homey effect. The kind of dim-colored room in which families spend their time on a stormy day. However, some rooms do not look very well-circulated when it gets too crowded.
Paying around 10-11 USD, you will get two hours to enjoy your time there. I like how the waiters are very responsive and quickly pick your dirty plates once they are empty. It's like they knew what I was thinking, other customers don't have to know that I have brought so much food to my table already! 
Furthermore, I feel like they can do better with variations in desserts. They only have regular and/or boring vanilla, strawberry, and chocolate ice cream. I mean, it's also hearth-breaking enough that they don't provide kimchi.
Last but not least, it is a deal breaker for me that they use so much disposable utensils and plastic cups. Considering this place runs everyday, I suggest that they invest in reusable pudding cups, spoons, and forks.
Taste: 6.5/ Service: 8.5
2. Shabu Hachi
Overall, all-you-can-eat Japanese restaurants prepare similar cuisines. My shabu hachi's first impression was shiny and gloomy. Some corners do not look very spacious but they have better air circulation. When it comes to eating in a restaurant where you do all the grilling and boiling, trust me, it is very important that the place has a good air purifier for a fast smoke removal. Unlike shabu kojo, Shabu Hachi has more dessert options such as green tea, red bean, and durian ice cream, sweet potato, sticky rice dessert. They also have a live cooking section for waffle, takoyaki, dan sushi. It is understandable as the price to eat here is slightly more expensive. But worry not, the more people you come with, the lesser you'll have to pay. With its package price, this place is perfect for when you bring a group of people.
Shabu Hachi also have more soup flavors options: Japanese broth, original konbu, stamina soup, miso soup, mongolian, tom yum, and hot miso. Since it's Japanese style, Indonesians will consider most of the flavors to be pretty tasteless. Most people will agree that Indomie soups taste so much better. Moreover, I will consider their jelly to be an insult. As a jelly fan, it is kind of hard for me not to make this a big deal.
The waiters, while being nice, are not very responsive when it comes to removing your dirty plates. Since we would bring a dozen of different dish to our table, it makes it tough to find a room to put your plates on. You have a grill plate in the middle of your table and single-burner electric stove for each on of you, so yes, we need every space we can get!
Taste: 8/Service: 7
3. Royal Kashimura
The first noticeable difference that Royal Kashimura has is probably its size. Royal Kashimura's massive two-story building is located at Jalan Lombok no. 45 along with a large outdoor area surrounded by fish pond and greenery, bringing to you a very refreshing ambiance. The menu is very similar, though they seem to outdo others in desserts and sushi, they are so yummy and playful. Don't bother trying their takoyaki, though. It tastes like regret.
Royal Kashimura opts for soft ice cream instead, and offer slushee, which I am very fond of. Because of its spacious dining area, this place is by far the most relaxing. It felt less busy and crowded, so you don't have to worry about others' BBQ smoke. The waiters are very responsive to cater your request. They are polite and always around for when you need them. The manager looks very helpful and friendly, which makes this place incredibly well-run.
Taste: 8.5/Service: 8.5
4. Jigana Suki
Jigana Suki's soup is served in a pot for everyone, instead of in an individual bowl. They, however, let you choose two different kinds of soups (for two persons), and 3 for 4 persons. Even though you are given only two hours to eat, the employees will sometimes let you spend more time when the restaurant isn't busy. I especially love the way they slice their beef. It's not too thinly like other places do it. They also have more buffet menu and some types of beef are served with ice cubes, making sure it stays fresh long enough before you cook it. Jigana suki gives an up to 80% discount for those who are above certain age, so don't hesitate to bring your old folks to dine here. It's location however is kind of far from the heart of the city. Sukajadi street is tricky since it is infamous for its heavy traffic.
Jigana Suki has more varieties of mini cakes and buffet. But their price, which exclude the grill and fry set, is a bit confusing. Their stoves are not built in to the table, so it is a bit eye level.
Taste:8/ Service:8